Back 2 School Drive 2019
Published on Friday, July 26, 2019
Estimated read time: minutes
Content last updated on Wednesday, February 24, 2021
Publicado el 5 26 de 6 de 2019
El tiempo estimado de lectura es de: minutos
Contenido actualizado el 3 24 de 1 de 2021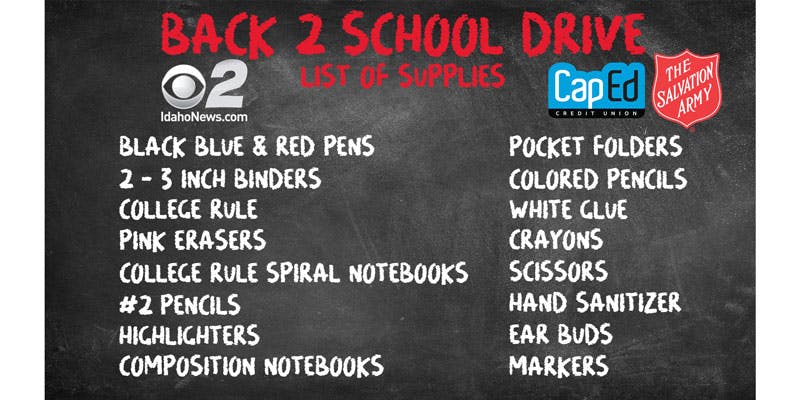 Today, all CapEd branches will begin collecting school supplies and monetary donations for the Back 2 School Drive, in partnership with CBS 2 News and The Salvation Army ! Donations will support area schools in the upcoming 2019-20 school year.

The Back 2 School Drive List of Supplies chalkboard includes all accepted supply donations that you can drop off in the designated Salvation Army barrels inside your preferred CapEd branch. If you would rather contribute monetarily, please see a teller, or feel free to donate to The Salvation Army online at https://boise.salvationarmy.org/ .
CapEd branches will continue to accept supply and monetary donations until August 23, 2019. Thank you for your membership and for helping us support education in Idaho!