CapEd & Lively Health Savings Account
Published on Thursday, March 10, 2022
Estimated read time: minutes
Content last updated on Tuesday, April 26, 2022
Publicado el 4 10 de 2 de 2022
El tiempo estimado de lectura es de: minutos
Contenido actualizado el 2 26 de 3 de 2022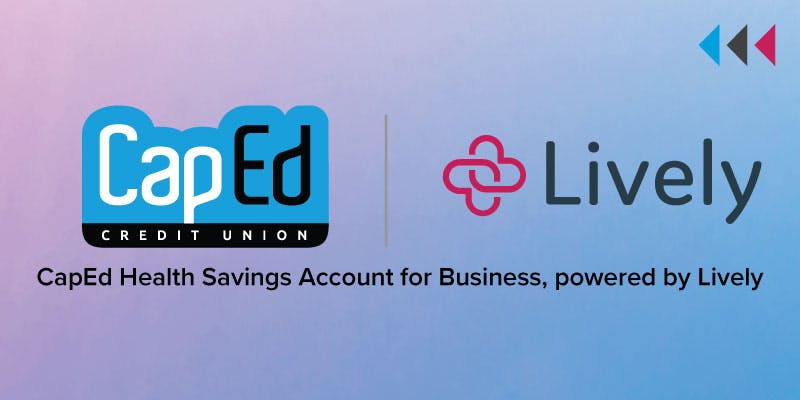 At CapEd, one of our primary focuses is our members' financial well-being. We want to help you feel secure in your ability to fully meet current and future financial obligations.
Putting aside money to save for unexpected expenses or larger purchases, like medical expenses, can be a challenging task. That's why we're introducing the CapEd Health Savings Account, powered by Lively. Lively Inc. is the creator of the modern Health Savings Account. They offer a top-rated HSA experience with accessible customer service where CapEd members can maximize healthcare savings with ease.
What is an HSA?
A Health Savings Account, or HSA is a personal savings account for health expenses. You start your own HSA account, contribute to it and you decide when and where to spend the funds as long as they are a qualified medical expense . In other words, HSAs function similarly to a 401(k). They are savings accounts owned by the individual and can be transferred from one job to the next or from one financial institution to another.
Benefits of an HSA:
Contributions can be pre-tax, and any interest and investment earnings can also be tax-free.
Pay for eligible expenses with HSA funds to save on out-of-pocket costs.
HSAs are a great addition to any retirement planning strategy. Funds never expire, and after age 65 you can use the funds just like a 401(k).
Perks of Lively
CapEd is working with Lively HSA experts to bring members an easy way to take advantage of savings through a Health Savings Account. Lively offers a user-friendly online dashboard that provide easy access to operate your HSA through an online browser or the Lively HSA app while on the go. You can also take advantage of the HSA debit card you'll receive with your account and pay for those co-pays, prescriptions, and other eligible expenses with it. Don't worry, you can also be reimbursed for any out-of-pocket payments with a few simple steps from your Lively dashboard.
Eligibility
Lively has provided a list of eligibility requirements in order to open an HSA. For starters, you are going to need to be enrolled in a high deductible health plan to be eligible to open an HSA. A HDHP is a plan with a higher deductible than a traditional insurance plan. The monthly premium is usually lower and can be combined with a health savings account, allowing you to pay for certain medical expenses with money free from federal taxes. For 2022, the IRS defines a high deductible health plan as any plan with a deductible of at least $1,400 for an individual or $2,800 for a family.
Open Your HSA Today!
Lively and CapEd want to set you up for success managing the financial burden of medical expenses with the CapEd HSA powered by Lively. To learn more information and open your HSA today, apply online, start a live text, audio or video chat with a CapEd representative or visit your local branch.