COVID-19 Safety Measures in Open Branch Lobbies
Published on Thursday, May 28, 2020
Estimated read time: minutes
Content last updated on Monday, June 14, 2021
Publicado el 4 28 de 4 de 2020
El tiempo estimado de lectura es de: minutos
Contenido actualizado el 1 14 de 5 de 2021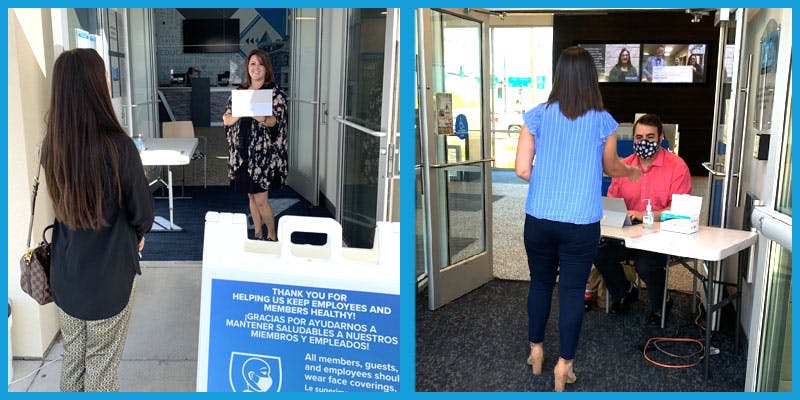 We are excited to offer full banking services in all of our branch lobbies again! If you choose to visit a branch to complete a transaction, you will see that the in-branch banking experience is a little different than what you may be used to from before the COVID-19 Pandemic. This is because we are working diligently to help protect you, our members, and our employees from communal spread of COVID-19.
What should you keep in mind when visiting a CapEd branch lobby?
As you'll see, we are taking many precautions to limit the risk of exposure to COVID-19 in our facilities. Even with the many things we can do to help keep you safe when you pay us a visit, we appreciate your help in that effort. When you come to a CapEd branch lobby, we have three requests:
All members and lobby guests who are not fully vaccinated against COVID-19 are asked to wear face coverings when entering a CapEd building.
We ask that everyone in the branch lobby maintain a social distance of at least six feet.
If you are feeling unwell or if you have been exposed to COVID-19, please do not enter one of our facilities.
These three simple steps will help us to keep you, our members, and our staff safer during your visit.
What are we doing to reduce the risk of COVID-19 exposure in our buildings?
We are doing a lot to make our branch lobbies safer for everyone who decides to come see us in person. If you stop by one of our open branch lobbies, you will notice the following adjustments to the lobby environment to help reduce the risk of spreading COVID-19:
Instructional signage. You will see large signs at each lobby entrance asking members and visitors to wear a mask if not fully vaccinated against COVID-19, practice social distancing, and for anyone who is not feeling well or has been exposed to COVID-19 to please refrain from entering the building. We thank you for doing what you can to help us stop the spread.
A greeter at some entrances. If you encounter a greeter at a lobby entrance, this individual is there to identify those entering with a facial covering. They will have a supply of disposable masks and hand sanitizer to offer visitors. They will also be ready to facilitate a number of services without members even needing to enter the lobby.
Social distancing markers. Markers will be visible on most lobby floors and branch sidewalks to guide proper social distancing.
Germ shields. Similar to many grocery stores, you will see Plexiglas germ shields at all Teller windows and Personal Financial Representative's desks.
Masks. Washable masks with removable filters have been made available for all branch employees. We are requiring our employees to wear masks while inside our locations if they are not fully vaccinated against COVID-19.
Gloves. Gloves have been made available for branch employees to use as desired.
Frequent and regular sanitation. We are fortunate to be able to provide plenty of hand and surface sanitizing products within our branch lobbies to allow for regular disinfecting of high touch areas and hands. Please feel free to use the hand sanitizer at your teller window or desk. Nightly janitorial service cleanings are also taking place at all branches to ensure full sanitation of our spaces between business hours.
Fewer chairs. We have removed or reduced the chairs in communal waiting areas in our open branch lobbies to aid in social distancing practices. For the same reason, children's areas within branches will be closed. We understand that some of our members may need a place to sit during their visit. Please reach out to a CapEd Teller or Personal Financial Representative if you require seating accommodation and we will be happy to assist you.
Restroom Access. In order to keep our facilities as sanitary as possible, some of our restrooms are limited to employee access only. If you find yourself in need of a restroom in a branch without a public restroom, please notify a CapEd employee so that we may follow proper sanitation protocol after you are finished.
The measures we have put in place align with the guidelines from the State of Idaho and CDC to ensure sufficient access to our lobbies for members while maintaining health and safety. We will closely evaluate the effectiveness of our plan each day and modify processes and procedures as needed moving forward.
Not ready to come into a branch?
We understand if you are still more comfortable banking from home. Online and Mobile Banking are great options for managing your accounts from the comfort of your own space, and we are still offering drive-through services at the majority of our branch locations. Log into eBanking to check on your accounts at the top of this page.
As always, please feel free to contact us with any questions. Thank you for doing your part to help us keep our employees and your fellow members healthy. We appreciate you, and we look forward to working with you soon!