The Member Services Widget in eBanking
Published on Tuesday, July 28, 2020
Estimated read time: minutes
Content last updated on Wednesday, February 24, 2021
Publicado el 2 28 de 6 de 2020
El tiempo estimado de lectura es de: minutos
Contenido actualizado el 3 24 de 1 de 2021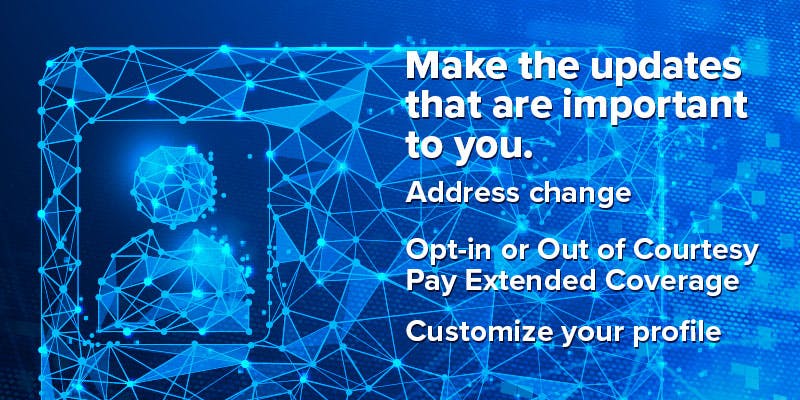 Have you noticed a new icon in your eBanking menu lately? Our new Member Services widget offers you some great new navigation options!
Change your mailing address online in one easy step!
If you need to update your mailing address, you can now do so right in the CapEd Mobile banking app and in Online Banking! Just select the Address Change option in the Member Services widget menu. If you have two mailing addresses on file, please contact us.
Adjust your Profile Settings
The Profile Change option in the Member Services widget menu offers the following helpful options for easy access to making your CapEd eBanking profile just the way you want it:
- Personalize and organize your accounts dashboard
- Update and toggle notifications on or off
- Adjust your navigation menu
- Change your username and password
- Keep your contact phone number and email current
- Enable or disable Face or Touch ID for Mobile App login
- Enable or disable Snapshot for the accounts that you'd like to see the balance for without having to log into the mobile app
Instantly turn Extended Courtesy Pay on or off for your checking account(s).
We offer an extension privilege for eligible accounts within our Courtesy Pay service called Extended Courtesy Pay, which includes everyday debit card transactions in addition to Standard coverage, and now it's even easier to opt in or out. Simply toggle extended service on or off with the Member Services widget's Courtesy Pay menu option. For more information about Standard and Extended Courtesy Pay coverage visit the Overdraft Protection & Courtesy Pay page on our website.
If you don't see the Member Services widget in your navigation menu, simply visit the More section and explore these convenience features today.