Photo Contest | Hot Air Balloon Ride for Two!
Published on Monday, August 05, 2019
Estimated read time: minutes
Content last updated on Thursday, September 08, 2022
Publicado el 1 5 de 7 de 2019
El tiempo estimado de lectura es de: minutos
Contenido actualizado el 4 8 de 8 de 2022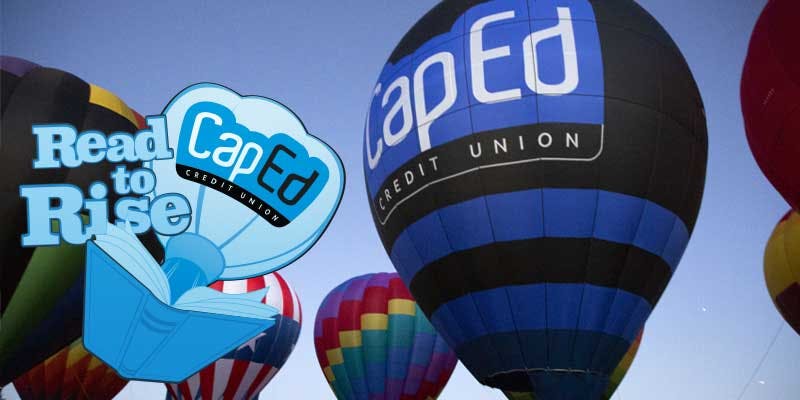 Read to Rise has been a proud participant of the Spirit of Boise Balloon Classic for the last 4 years, and we're so excited about 2019 that we can't wait to get the balloon off the ground. That's why we'll be launching CapEd's Read to Rise hot air balloon from three separate locations, once each week before the Classic begins:
Read to Rise Launch Dates
Wednesday, Aug. 7 from CapEd S. Nampa Branch
Tuesday, Aug. 13 from CapEd Administrative Headquarters
Wednesday, Aug. 21 from CapEd Eagle Branch
Each launch/flight will be between 7 a.m. and 8 a.m. on each launch day.*
The Contest
Snap a photo of Read to Rise in the air on one of the days listed above and create a public post with the photo on social media including #readtorisespirit. If you are posting to Facebook, you will need to visit the CapEd Credit Union Facebook page and post your photo on our timeline to be counted. This will enter you into our contest to win a hot air balloon ride and VIP breakfast for two in the CapEd Credit Union chalet on Friday, August 30, during the Spirit of Boise Balloon Classic!*
Posts will be counted until August 26 at 11:59 p.m. MST. On August 27, we will randomly select the winner from all submissions and announce the result on the CapEd Credit Union Facebook page .
We can't wait for all the spirited fun to begin--for the kids and for the grownups, too! For even more information about the Classic, feel free to visit spiritofboise.com .
*All events are weather permitting. You must be 18 years or older to participate in this contest.