Do you Doodle?
Published on Friday, September 06, 2019
Estimated read time: minutes
Content last updated on Thursday, September 08, 2022
Publicado el 5 6 de 8 de 2019
El tiempo estimado de lectura es de: minutos
Contenido actualizado el 4 8 de 8 de 2022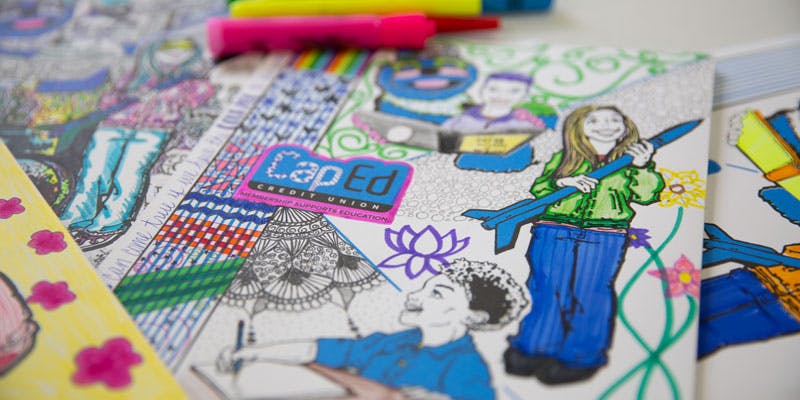 Are you looking for an easy and fun way to help support local educators? CapEd's Doodle Folders could be the perfect outlet for you.
Our CapEd Doodle Folder program is set up so that your awesome artistic prowess is all that you need to receive funds to donate to a local classroom project in Idaho. But how?
Doodle Folders Fund Donations To We Love Teachers
We Love Teachers , in partnership with DonorsChoose , facilitates grassroots fundraising for educators in Idaho.
Since 2016, We Love Teachers has helped Idaho teachers raise more than $23,000 for classroom projects to engage and inspire their students. That's, in part, thanks to funds generated by Doodle Folder submissions on caped.com.
How Does The CapEd Doodle Folder Program Work?
Whether you're a CapEd Credit Union member or not, visit any CapEd branch and pick up a free CapEd Doodle Folder.
Doodle, color, and daydream on both covers of the folder--use as many colors as you want and definitely draw outside the lines. The doodlier the better!
Take a photo of your folder after both sides have been fully covered with color and/or doodles. The photo must show the entirety of both outside covers to qualify for donation funds. Make sure to wipe off the lens of your camera phone, if needed, so that we have a crisp, beautiful view of your work!
Visit our Doodle page and submit the photo of your folder cover along with a valid email address. (If you'd like us to tag you when we post your approved submission to social media, add your social media username, as well!)
Once the submission has been received, reviewed, and approved, a gift code for $25 will be emailed to the email address provided with the submission. A link to weloveteachers.org will also be in this email.
Visit the We Love Teachers website and find an Idaho classroom project that you're excited to help fund.
Click "Support This Project" for your preferred project and type $25 in for your donation value. Then click "Complete My Donation at DonorsChoose.org."
You will be redirected to DonorsChoose.org . Follow the directions and enter your gift code in the appropriate field.
Once the gift code has been applied and submitted, a confirmation email will be sent to you.
It's that simple! Doodle, submit your masterpiece, find a local classroom project that you feel passionate about supporting, and give your $25 gift code toward that project goal. This is a program anyone can participate in, and four submissions are allowed per unique email address per calendar year.
Check out the brand new Folder design and other Doodlers' work on our 2019 Pinterest Doodle Folder board !
Done With Your Doodle?
Submit a photo of your completed CapEd Doodle Folder on our Doodle page .
- Last Updated 10/9/19 -