CapEd Movie Trailer Contest Winner Premieres New Film
Published on Tuesday, August 20, 2019
Estimated read time: minutes
Content last updated on Wednesday, June 08, 2022
Publicado el 2 20 de 7 de 2019
El tiempo estimado de lectura es de: minutos
Contenido actualizado el 3 8 de 5 de 2022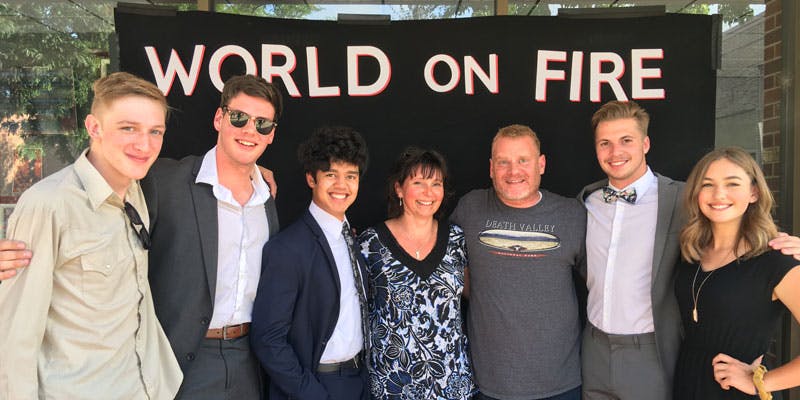 Troy Buss, formerly known to many as Justin, and sporting a bow tie in this post's photo, is a talented young Idaho filmmaker who has been a multi-year applicant to the CapEd Movie Trailer Contest and a First Place winner in our 2018 and 2019 Contests. He and his film-making team premiered their latest film, World on Fire, last night at Overland Park Cinemas.
Troy considers himself a practitioner of many trades, as a director, producer, cinematographer, editor, storyteller, and freelance filmmaker. He has a keen eye for camera angles, a sense of precision when it comes to dialogue, and an affinity for the Action and Drama genres. Troy's published works may be found on the BussFilms YouTube channel .
The BussFilms reel includes mostly works that fall under the PG-13 rating, as they feature violence and a significant number of fight scenes. As Troy puts it, "I often get asked why my films include so much violence, and I can only quote Quentin Tarantino [in saying], 'Because it's fun.'"
Troy's passion for film is apparent in both the production value of each of his projects and the dedication of his actors and friends. Many of Troy's team members have been involved in multiple productions, even some since the start of Troy's movie-making journey.
Watch our interview with Troy and some of his long-standing teammates below and find out where these burgeoning talents are off to next.