What is the Difference Between a Bank and a Credit Union?
Published on Monday, November 09, 2020
Estimated read time: minutes
Content last updated on Wednesday, February 24, 2021
Publicado el 1 9 de 10 de 2020
El tiempo estimado de lectura es de: minutos
Contenido actualizado el 3 24 de 1 de 2021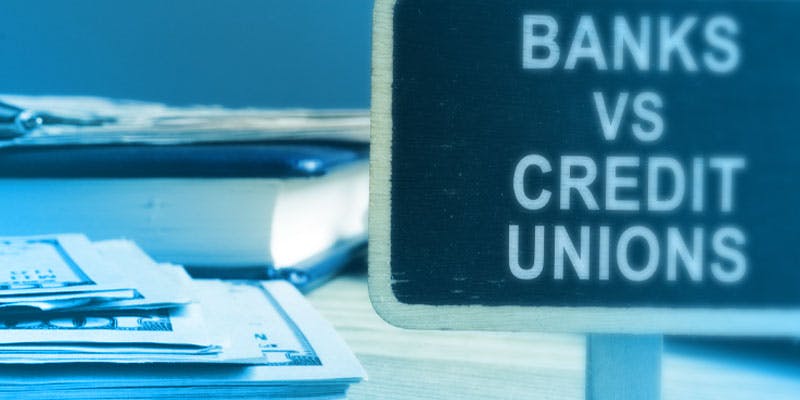 Connecting with a trusted Financial Institution (FI) empowers you with access to checking and savings accounts, debit and credit cards, and loans, which can broaden opportunities for you as a consumer and, with the right guidance, have the potential to put you on a path toward financial freedom. If you're thinking about establishing a banking relationship with an FI so you can check something off your "adulting" list, you're on your way.
Based on the fact that you're currently reading this article, you already know that checking this box begins with a bit of research, which can tumble quickly into a myriad of questions. In the rabbit hole of information about local FIs online, you may have discovered what many people come across in their search for the perfect banking relationship—banks aren't the only kind of FI you have to choose from. You can also bank with credit unions.
"What's the difference between banks and credit unions?" you ask.
Great question. While banks and credit unions offer similar products and services, there are some fundamental differences between them.
Comparing Banks To Credit Unions
Banks
Banks are for-profit organizations.
Most of them are privately owned or publicly traded.
So, there's usually no membership required.
Because they are for-profit organizations, they tend to pay higher taxes, which sometimes translates into offering lower savings rates and charging higher fees.
Banks are open to anyone.
They're often bigger than credit unions, which sometimes means they can offer more products and services.
As a result of their size and the potential national or international presence of their physical locations, they may also offer more widespread ATM options.
Credit Unions
Credit Unions on the other hand are not-for-profit institutions.
They are owned by their members.
Therefore, a membership is required to be able to bank with them, but it isn't often difficult to join if you find one that shares your passions or values.
By being not-for-profit organizations, credit unions are generally exempt from federal taxes, which usually puts them in a position of being able to offer higher savings rates and lower fees.
Credit Unions are cooperatives made by and for members that often share a common bond.
They are often smaller than banks, so in order to serve their members across the country, many credit unions have partnered to be able to offer shared branching and ATMs outside of their physical branch network.
As a credit union member, you can transact at any ATM and some credit unions even offer ATM fee reimbursements for fees incurred at non-credit union ATMs.
What Makes Banking At A Credit Union Special?
Board of Directors
Credit unions are unique in that most of them vote in partnership with their members to elect a board of directors that approves important organizational decisions. These decisions are made in the interest of the credit union's community and their membership.
This focus on serving members rather than on generating profits is often the focal difference between credit unions and banks, where profits are commonly the main goal for their shareholder committees.
Mission, Vision, and Community
As part of a commitment to community, credit unions often work with their board of directors to offer a variety of programs that directly impact their local economy. These impacts are made through donation of both volunteer time and funding to special programs and organizations that align with their core values.
For example, CapEd's products, services, and philanthropic activities all center around and work in support of our credit union's vision: CapEd is committed to supporting quality education, financial empowerment, and the enrichment of individuals and communities. For this reason, most of the funds that are not given directly to our membership (in the form of reduced fees and lower interest rates) are donated to local schools and education-based organizations in Idaho.
Credit union missions often place an emphasis on improving their members' financial well-being for the long term, which means helping their membership to understand healthy and sustainable money management practices. The financial education opportunities credit unions offer may include classes and webinars, like CapEd's Lunch Money | A Financial Well-Being Webinar Series, and free educational resources available on their websites and/or social media profiles, like CapEd's Learning Center. In these ways, credit unions strive not only to help you manage your money, but to teach you how to make your money work for you at every stage of your life.
More Than A Member
At a credit union you're more than a member; you're a co-owner of the organization, so you can expect more personalized service and importance placed upon your banking needs. That's why, at CapEd, you'll hear us say that for us, "It's More Than Banking; It' Making A Difference."
Membership at our credit union started in 1936 as a cooperative organization made up of teachers supporting teachers. Since then, we have expanded our field of membership to include everyone within and involved with our local education community, which means many people are eligible to join. Learn more about how to qualify for membership at CapEd Credit Union and apply to open your share account today.
So… Which One Should I Pick?
When you're deciding on a bank versus a credit union, it's always a good first step to look at an FI's fees and their short-and long-term account holding requirements.
Some FIs offer checking accounts with a monthly fee for balances under a certain quantity of funds called a minimum balance. Others might offer the same kind of account free of charge. At CapEd, each of our standard and rewards checking accounts is free to members, meaning you will never be charged for holding the account, no matter how much money you keep there, as long as you maintain a neutral or positive balance.
Furthermore, just like any good relationship, it's important that your values match those of your financial institution! While low fees or other perks like joining bonuses are great in the short term, if your FI's mission and vision don't align with your values, it's likely their product and service offerings won't support your lifestyle or help you meet your financial goals.
We recommend making a list of the top bank and credit union contenders in your area and narrowing the list based on a couple of factors:
1) Their values as an organization.
2) The products and services they offer that will help you save for and build the life you want now and in the future.
We're sure that by the end of this process you will find the perfect financial institution for you!