Your Money is Safe & Secure at CapEd
Published on Monday, March 13, 2023
Estimated read time: minutes
Content last updated on Wednesday, March 15, 2023
Publicado el 1 13 de 2 de 2023
El tiempo estimado de lectura es de: minutos
Contenido actualizado el 3 15 de 2 de 2023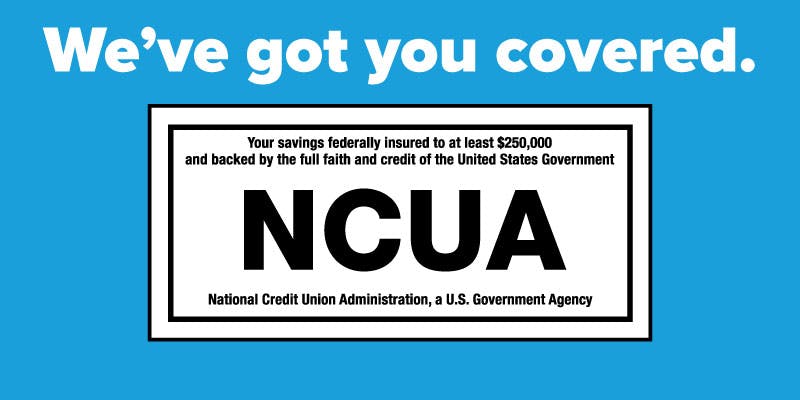 We understand you may have concerns and questions about the safety of your accounts at CapEd. We want to reassure our members of the safety and security of their credit union deposits.
You can rest easy knowing, not one penny of insured savings has ever been lost by a member of a federally insured credit union.
We're Federally Insured
CapEd is federally insured by the National Credit Union Association, an independent agency of the U.S. government. The National Credit Union Share Insurance Fund insures your money, and it is protected up to $250,000 per individual depositor. This means each account owner is insured. For example, if you have a joint account with you and your spouse, you are individually insured up to $250,000 and your spouse is also insured up to $250,000 for a total of $500,000 insured funds.
Maximize Your Insurance Coverage
Depending on how your accounts are structured or are set up, you can be insured well beyond $250,000. To better understand how you can structure your accounts, get started by watching this Account Ownership Types Video provided by MyCreditUnion.gov and the NCUA. Another great resource is this "You're Insured Funds" brochure from the NCUA. In this brochure you'll find many simplified examples of how to structure your accounts to maximize your insurance coverage for your whole household.
If you'd like to calculate how much your accounts are insured, check out this Insurance Estimator . You'll need CapEd's charter number, which is 1040, then you can plug in your account type (e.g. single, joint, IRA, etc.) and balance for each of your accounts.
We also recommend visiting or chatting with our trusted CapEd Member Specialists, they'll be able to clarify all your account types, owners and help set you up for financial success.
What Is Covered by NCUA Insurance
The NCUA Share Insurance covers many types of share accounts here at CapEd and other federally insured credit unions.
Insured Accounts:
Share Savings
Share Draft Accounts aka Checking Accounts
Money Markets
Share Certificates
Your IRA
Trust Accounts
Business Accounts - Contact our Business Relations Experience department with questions or for more information at 208-855-4634.
NCUA does not insure money invested in stocks, bonds, mutual funds, life insurance policies, annuities or municipal securities.
The Credit Union Difference
You've already made the wise decision of joining a credit union, where all decisions are made in your best interest as an owner in this not-for-profit financial cooperative. No member of a federally insured credit union has ever lost a penny of insured deposits. So, the safest place for your cash is with your credit union! We live and work in the communities that we serve, taking local deposits and making local loans. Our primary focus is on our member's financial well-being, the enrichment of community, and promotion of quality education. You can find more information and details about CapEd here .