Celebrate Giving Tuesday with a Donation to We Love Teachers
Published on Tuesday, November 19, 2019
Estimated read time: minutes
Content last updated on Thursday, September 08, 2022
Publicado el 2 19 de 10 de 2019
El tiempo estimado de lectura es de: minutos
Contenido actualizado el 4 8 de 8 de 2022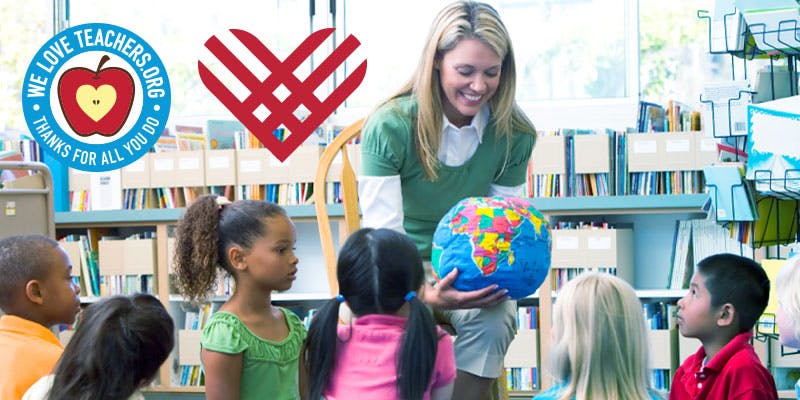 At CapEd Credit Union, our mission is to support and celebrate local educators in Idaho by offering great financial solutions for them, their families and those enthusiastic about the work they do every day. That's why on December 3rd, Giving Tuesday 2019, we're donating to We Love Teachers, a partnership with DonorsChoose .
On Giving Tuesday, from 8 a.m. to 5 p.m., we'll be donating to local classroom projects at weloveteachers.org and sharing each donation with our Facebook followers. In our last post at 5 p.m., we'll announce how many dollars we have donated to fund education in Idaho that day!
DonorsChoose Matching
What's more, DonorsChoose will be doing a 50% match in honor of Giving Tuesday 2019! That means on December 3rd, for every $1 you donate to We Love Teachers, DonorsChoose will donate an extra 50 cents. We couldn't be more excited to join in the giving spirit. How about you?!
Celebrate Giving Tuesday With Us
If you're a fan of education and you live in Idaho, a great way to celebrate Giving Tuesday is to donate to a We Love Teachers project!
Embrace that still-lingering Thanksgiving spirit and join us on December 3, 2019 in supporting local educators through weloveteachers.org. All you have to do is visit https://weloveteachers.org/find-project , select a project to support and make your donation. There's even a handy Search function for if you have a specific type of project you'd like to fund.
Thank you for helping us support our local Education Community! Follow us on Facebook to stay up to date with our Giving Tuesday 2019 donations, and learn more about We Love Teachers at weloveteachers.org .