Idaho CapEd Foundation Q&A
Published on Tuesday, January 26, 2021
Estimated read time: minutes
Content last updated on Thursday, August 11, 2022
Publicado el 2 26 de 0 de 2021
El tiempo estimado de lectura es de: minutos
Contenido actualizado el 4 11 de 7 de 2022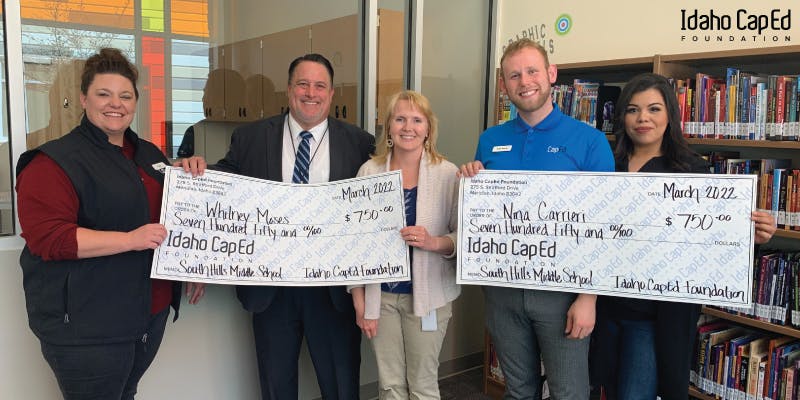 CapEd Credit Union is proud to support the education community through the establishment of and continuing support for the Idaho CapEd Foundation , a resource for Teacher Grant funding for Idaho educators. Learn more about the Foundation and get answers to some common questions about the Teacher Grant Program below:
1. When was the Idaho CapEd Foundation created?
In 2008, CapEd Credit Union started a Teacher Grant Program. In 2012, the Idaho CapEd Foundation was formed, and the Foundation assumed ownership of the Program, facilitating collection of funds and distribution of grants to local Idaho educators.
2. What was missing within the non-profit space that CapEd was trying to provide with the Foundation's grant funding opportunities?
Each year, teachers find themselves spending their own dollars to fund their classroom projects, so the Foundation was created as a 501(c)3 non-profit organization to award grants to Idaho Pre-K-12th grade teachers and educators to be used for specific and innovative educational classroom projects and school programs.
3. How many grants have been awarded since the program began?
As of August 2022, the Foundation has provided funding for approximately 900 educators in Idaho. 
4. How much money has the Idaho CapEd Foundation awarded to teachers since beginning the Teacher Grant Program?
As of August 2022, the Idaho CapEd Foundation has funded more than $538,000.00 for classroom projects in Idaho! 
5. Where do Idaho CapEd Foundation's funds come from?
The Foundation is supported by CapEd Credit Union, but also allows individuals and entities to make charitable contributions to increase available funds to be used in the Teacher Grant Program. Individuals who join the Foundation through a one-time membership fee ($20) are qualified for CapEd Credit Union membership.
6. How are the people who vote on Teacher Grant submissions selected?
The individuals who participate in the Teacher Grant voting process include former teachers and administrators, as well as volunteers from the CapEd Credit Union Board of Directors and Supervisor Committee, and Idaho CapEd Foundation members. The Selection Committee is made up of no less than three voters.
7. What are the common components of a successful grant application?
A successful grant application will include supplies and/or technology that enable improved classroom learning and teaching and enhance the current State or District Curriculum, which cannot be funded solely with District or building funds.
8. What kinds of supplies have been funded by the Foundation that teachers might not expect other grant applications to fund?
Sensory items to help create a safe area for students with emotional needs.
Items to enhance teaching meaningful occupational education in Extended Resource classrooms.
Funds for prize incentives for mileage club tracking programs – promoting physical activity at recess and lunch.
Materials to create a classroom reading corner that will provide a quiet, attractive, and conducive reading environment.
At-risk School Closet: provides clothing, backpacks, blankets, toiletries, and food.
High quality social/emotional literature for educators that will aid in helping the students identify and adopt strategies to help overcome mental health problems.
9. Why is supporting teachers important for the Idaho CapEd Foundation?
The goals and values of the Idaho CapEd Foundation are aligned with and in support of CapEd Credit Union's Vision Statement. The credit union and the Foundation both work to support quality education, financial empowerment, and the enrichment of individuals and communities.
10. Now that The Idaho CapEd Foundation has been a presence in the education community for so many years, what role does the Foundation play in the community?
The Idaho CapEd Foundation is known for helping to support classroom innovation, rewarding educational experiences for students, and making a huge difference for educators who would otherwise have to scrounge for dollars to spend on improving their classroom curriculum.
11. How do teachers feel about the grant application process?
Members of the education community have shared with us that the Idaho CapEd Foundation online application is user-friendly, to the point, and less exhausting than other grant applications. In an effort to simplify the application submission process, if an educator's application is not funded in the month they apply, they can resubmit the same application the following month to be in the running to receive funding again without having to edit any content. The application process opens on August 1st each year with deadlines on the first day of each month following through March 1st of the same school year.
12. How are funds made available to teachers for Teacher Grants?
CapEd Credit Union's Brand Engagement team works with the principals at teacher grant recipient's schools to surprise the educator during a live presentation of their check. Each check is made payable to the school so that the educator is not taxed for the funds. The school then reimburses the educator with the Idaho CapEd Foundation funds. CapEd Credit Union staff time is a contribution to the Foundation as to ensure all who receive funds are receiving 100% of the Foundation dollars.
13. Is the Idaho CapEd Foundation the same organization as CapEd Credit Union?
The Idaho CapEd Foundation is separate from but supported by CapEd Credit Union. Individuals can join the Foundation through a one-time membership fee of $20 to qualify for CapEd Credit Union membership. These individual contributions are used to support Foundation programs and Teacher Grants.
To learn more about 2015-2022 Teacher Grant Recipients, their projects, and classroom achievements, please visit the Foundation's website at capedfoundation.org . You can also view past winners on CapEd's YouTube Channel !