Business Smarts: Tiered Fee Pricing
Published on Tuesday, March 03, 2020
Estimated read time: minutes
Content last updated on Thursday, September 08, 2022
Publicado el 2 3 de 2 de 2020
El tiempo estimado de lectura es de: minutos
Contenido actualizado el 4 8 de 8 de 2022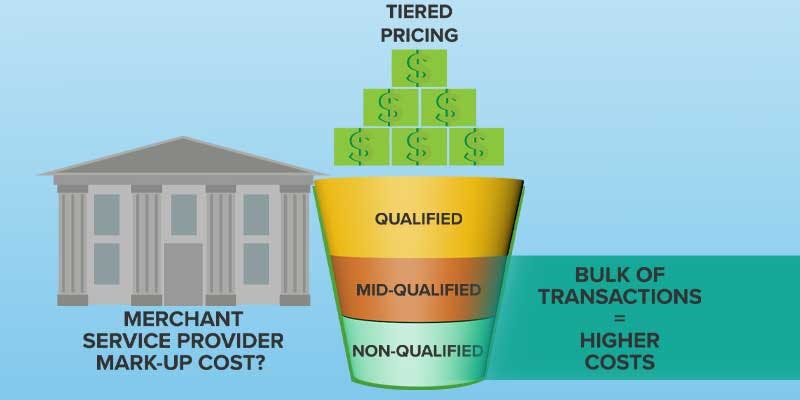 There are several different merchant services pricing models that vary depending on the following factors:
The merchant services provider you partner with
The type of cards you choose to accept
The type of software or hardware you select to process those payments
How the payment is accepted
Navigating the many options can be time consuming and confusing, but we're here to help you make the right selection for your business.
The two most common pricing models are Interchange Plus Pricing and Tiered Pricing. We've detailed the pros and cons of Interchange Plus Pricing in another blog post, so now let's explore Tiered Pricing.
Merchant Services Tiered Pricing Model
Tiered Pricing, also referred to as Bucket Pricing, normally consists of three tiers: Qualified, Mid-Qualified, and Non-Qualified.
Each tier, or bucket, is assigned a different fixed rate that is determined by the merchant services provider. The qualified tier has the lowest rate, the non-qualified tier has the highest rate, and the mid-qualified tier has a rate somewhere in-between.
Different from the Interchange Plus Pricing model, where payment networks determine the factors that affect pricing differentiation, transactions in the Tiered Pricing Model will fall into a tier depending on several factors that are solely determined by the merchant services provider. These factors typically include: how the card was processed, how the payment was accepted, and the type of card being processed.
Tiered Pricing Example
For example, if a payment is accepted in a transaction where the card is not present, all payment details must be entered and all prompts on the payment terminal must be followed to ensure you are getting the lowest rate possible. Bypassing prompts or failing to capture information at the time of sale could result in higher rates.
Simple, But Sometimes Costly
The simplicity of a Tiered Pricing Model can be appealing. However, in many cases the bulk of transactions are charged at the mid-qualified or non-qualified tiers resulting in higher costs. It can be very difficult to determine what a merchant services provider's mark-up cost will be with a Tiered Pricing model, making it nearly impossible to determine if you are getting a good deal.
CapEd Can Help
The world of merchant services is complex and full of variables, which can be intimidating or confusing for business owners. CapEd Credit Union wants to help you make sense of the payment processor landscape, so you can determine what service options are best for your business.
Contact CapEd's Business Relations Experience Team today to start the conversation.