Spirit of Boise Balloon Classic 2019
Published on Thursday, August 01, 2019
Estimated read time: minutes
Content last updated on Wednesday, February 24, 2021
Publicado el 4 1 de 7 de 2019
El tiempo estimado de lectura es de: minutos
Contenido actualizado el 3 24 de 1 de 2021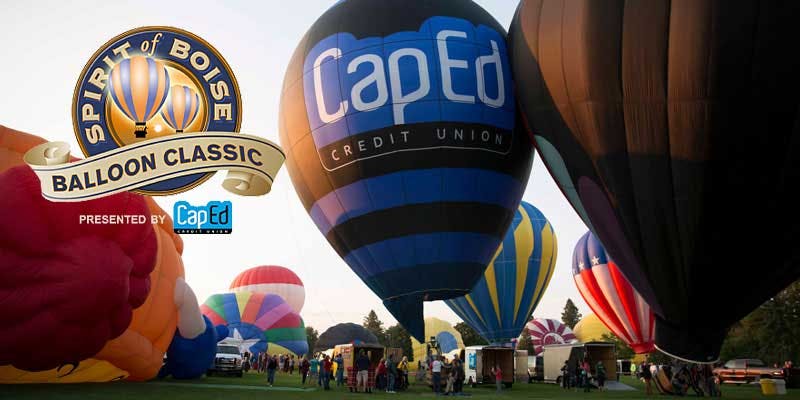 How's this summer treating you? If the heat's got you down, don't worry. We know just how to reinflate your enthusiasm—with the 2019 Spirit of Boise Balloon Classic, presented by CapEd Credit Union!  
Schedule of Events*
Ann Morrison Park, Boise
7 a.m. Wednesday, Aug. 28: CapEd's Kids' Day
7 a.m. Thursday, Aug. 29 - Sunday, Sept. 1: Balloon Launch Viewing
6-10 p.m. Friday, Aug. 30: Nite Glow
CapEd's Kids' Day 
This awesomely fun, family-friendly event kicks off with CapEd's Kids' Day on Wednesday, August 28. Bring your kids to Ann Morrison Park at 6:45 a.m. (weather permitting) to enjoy free tethered balloon rides on one of the many colorful hot air balloons and have a visit with Ed Word the Bookworm™ while you wait for your child's tethered ride in CapEd's own Read to Rise balloon.  
Nite Glow 
Then, don't forget to come back for the Nite Glow on Friday evening, August 30, from 6-10 p.m. At the Nite Glow, participating hot air balloons will perform a choreographed light show to music. We'll be handing out glow-in-the-dark Ed Word tattoos so that kids can join in on the glowing fun. This is a not-to-be-missed event, so we hope to see you there! 
A Great Month for Contests
Coloring Contest
Through August 26, CapEd Credit Union is running a Coloring Contest for ages K-6th grade. Ask your teller about this fun promotion or learn more about CapEd's Coloring Contest on our blog and download a coloring sheet for your child today.
Read to Rise Photo Contest
We can't wait to get CapEd's Read to Rise hot air balloon off the ground for the Spirit of Boise Balloon Classic 2019. So, we'll be launching the balloon for a photo contest that could win you and a friend a VIP Spirit of Boise experience on Friday, August 30th!* Read about the photo contest on our blog and mark your calendars for some high-quality Read to Rise photo-ops.
For even more information about the Spirit of Boise Balloon Classic, feel free to visit spiritofboise.com .
*All events are weather permitting. Read to Rise Photo Contest recipients must be 18 years or older.