Get Your Tax Return Faster with Direct Deposit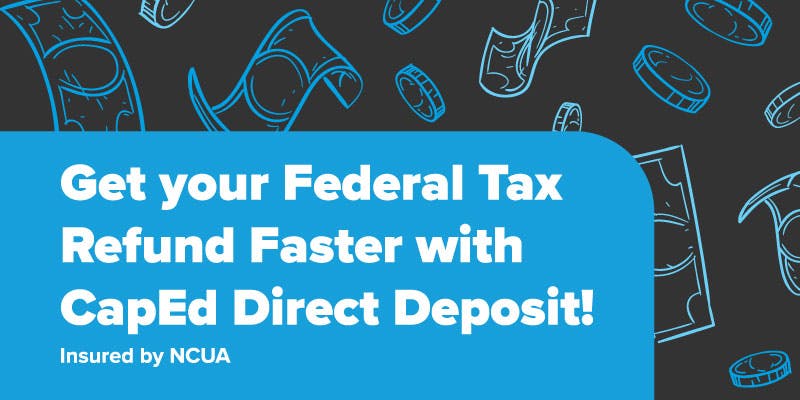 Tax Season is officially upon us!
At CapEd Credit Union, we understand that tax season can be a stressful time. That's why we want to make it as easy as possible for our members to get their returns deposited directly into their accounts. With direct deposit, you can avoid the hassle of waiting for a paper check and get your money quickly, securely, and easily.
What You'll Need
To get started you will need your account number and routing number.
Routing Number: 324172575
You can find the CapEd routing number in a few locations.
On capedcu.com, scroll to the very bottom of the page and you'll see our routing number listed.
When you log in to your online banking on a desktop, you'll see the routing number listed on the right hand of your screen and at the very bottom of the screen as well.
When you access your online banking from the mobile app, hit the "More" button and it will be listed toward the bottom of the menu.
You can also find the routing number on your checks, it will be the first series of numbers on the bottom right of your checks.
Next, you'll need your account number.
You can find your account number once you've logged in to your online banking on either the desktop or mobile version.
Click on the account you need the account number from.
You'll only be able to see part of the account number unless you click the eyeball icon to reveal the rest of the account number
If you're trying to find your full account number on the mobile app, after you've selected the account you need, click "show details" then you'll be able to hit the eyeball icon again to reveal the full number.
Lastly, you can find your account number on a printed check off of your account. It will be the second series of numbers listed on the bottom of the check.
Whether you choose to file your taxes electronically or through a local tax organization, you can get your refund faster by requesting your refund be delivered via direct deposit.
Rest easy knowing that your return is securely deposited into your CapEd account. With direct deposit, your return will be available to you quickly, so you can start taking advantage of the funds. At CapEd, we want to make tax season as stress-free as possible, so take advantage of direct deposit and get your 2023 tax return quickly and securely. 
You can find more information and resources like tracking your refund, through IRS website here .