What is a Member Convenience Center?
Published on Thursday, December 02, 2021
Estimated read time: minutes
Content last updated on Thursday, September 08, 2022
Publicado el 4 2 de 11 de 2021
El tiempo estimado de lectura es de: minutos
Contenido actualizado el 4 8 de 8 de 2022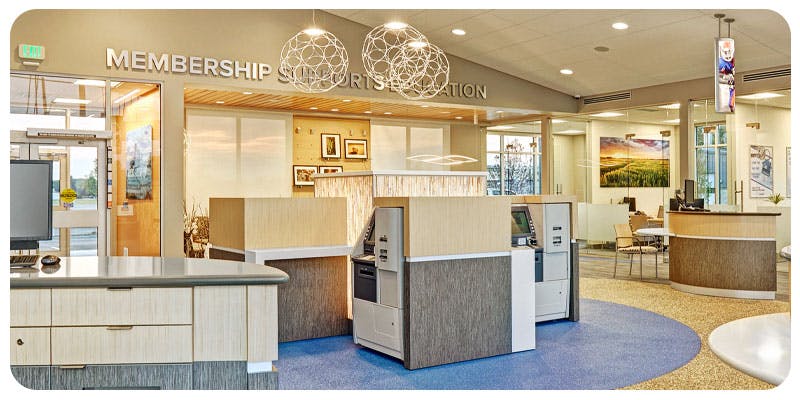 You may have noticed that some of CapEd Credit Union's branches in the Treasure and Magic Valleys aren't called branches. Instead, they're called Member Convenience Centers.
What is a Member Convenience Center?
A Member Convenience Center (MCC) is a branch construction style within the financial services industry that prioritizes personal and interactive member experiences. In CapEd's MCC model, members are greeted at the door so they may be directed to the appropriate location within the building to meet their specific needs.
Branch Look and Feel
Once a member enters the branch, they can opt for a full-service banking experience in a closed office or at a Teller "pod," an assisted-service experience with a teller standing by to help with any questions that come up at the in-branch ATM, or a self-service experience by completing their own transactions at our in-branch ATMs or the coin machines available at many of our branches.
In the MCC Model, the traditional teller line some of us may be used to seeing in banks is broken up into pods on an otherwise open floorplan flanked by offices, and a comfortable waiting area. Our South Nampa branch even has a community room for small gatherings like seminars and networking events. Technology, such as our in-branch ATMs, made available within the MCC allows a member to handle transactions without the aid of an employee, but for those members who desire a traditional banking interaction, our teams are equipped with the knowledge and tools to help a member achieve their financial well-being goals.
Smaller Footprint, Bigger Possibilities
The MCC style branch can be constructed on a smaller physical footprint and staffed with fewer team members due to the efficiencies gained by enabling self-service banking options. CapEd cross-trains employees at our MCC locations so they are able to take care of most member needs, no matter their member's specific request. The open layout of the MCC Model also provides room to innovate as technology progresses to adapt existing branches with the latest financial technology as it becomes available.
Where did CapEd's MCC concept come from?
CapEd's MCC model was inspired by the cooperative Credit Union spirit! In 2013, CapEd leadership visited University Federal Credit Union in Austin, Texas, to hear about a new style of branch that they had employed--the Member Convenience Center--and we were so impressed by the positive feedback that their members had been providing that we gave it a try in the construction of our new Linder branch in 2014.
In its first four quarters after opening, survey results for satisfaction with the Linder branch location were on average 95.4%, an unprecedented number in Credit Union history to that date, so we've constructed each new branch since then in similar MCC style, improving and tweaking with each new build.
Each of our MCCS (Linder, South Nampa, South Meridian, Kuna, and Twin Falls) were constructed with CapEd's growing membership in mind. Our goal is to meet the increasing need for efficient, diverse service offerings and self-service options and continuously improve our member experience with new technologies.