CapEd's Read to Rise Program and Hot Air Balloon
Published on Thursday, January 30, 2020
Estimated read time: minutes
Content last updated on Thursday, October 12, 2023
Publicado el 4 30 de 0 de 2020
El tiempo estimado de lectura es de: minutos
Contenido actualizado el 4 12 de 9 de 2023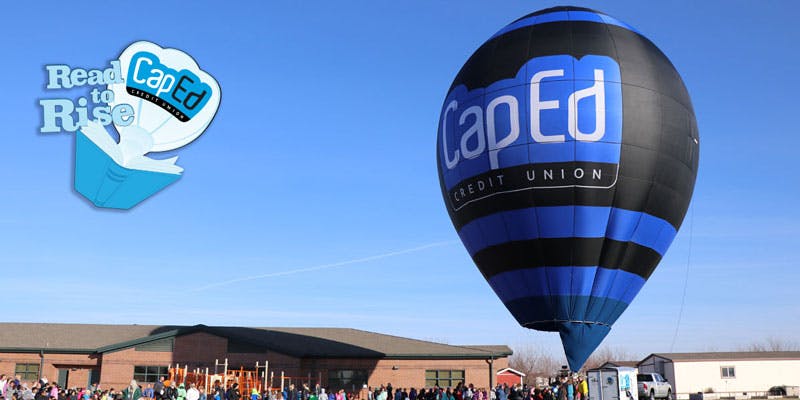 At CapEd, Read to Rise means two things.
The Read to Rise Reading Program
First, we have our Read to Rise Reading Program.
You may be familiar with summer reading programs offered by local libraries and educational organizations to make sure children keep up their reading habits over the summer months. CapEd started the Read to Rise Reading Program in the summer of 2016 to not only support literacy over summer break, but to provide a fresh take on reading programs in Idaho.
An Evolving Program
After the Read to Rise Reading Program's first two years, Idaho educators told us they needed more support for their students' literacy work during the school year. So, in 2018, we began running the Read to Rise program between November and April each school year.
CapEd has made new, exciting changes to the 2021-22 Read to Rise Reading Program!
How to Participate
Elementary schools can participate in this free program through two paths:
Invite CapEd to participate in the elementary school's family literacy/reading event.
If a family literacy/reading event isn't an option for the school, students can enjoy a recorded book reading by CapEd's very own reading ambassador, Ed Word the Bookworm™, during reading time in the library.
All elementary schools that participate in the reading program via one of the two paths listed above will be placed into a random drawing. The three schools that are selected from this drawing will win a visit from the Read to Rise hot air balloon and Ed Word the Bookworm™!
Since Read to Rise began, more than 747 students, hailing from 79 schools, have read more than 500,000 total minutes. That's more than 8,333 hours, or 347 days--nearly a whole year of mental adventures in books--since 2016. Learn more about how your child can join the literacy movement on the Read to Rise page.
The Read to Rise Hot Air Balloon
That brings us to our second meaning for Read to Rise.
When you see Read to Rise italicized, we're referring to our Read to Rise hot air balloon! Read to Rise was created in 2016 as a fun incentive for children to participate in the Read to Rise Reading Program. You may have seen Read to Rise in the air at the annual Spirit of Boise Balloon Classic or on a spring day in the field behind one of our local elementary schools.
Ed Word the Bookworm™ lives in Read to Rise and visits winning schools with the balloon to help teach children about hot air balloon science, congratulate them for their reading efforts, and help promote a love of the written word.
If you're a parent looking for a great way to teach your kids the importance of reading and vocabulary, be sure to check out the Read to Rise Reading Program. Furthermore, if you'd like your child to meet Ed Word the Bookworm™, let their teacher or school know they can request Ed Word for their next reading or literacy night.