How To Contact CapEd
Published on Friday, March 03, 2023
Estimated read time: minutes
Content last updated on Thursday, March 09, 2023
Publicado el 5 3 de 2 de 2023
El tiempo estimado de lectura es de: minutos
Contenido actualizado el 4 9 de 2 de 2023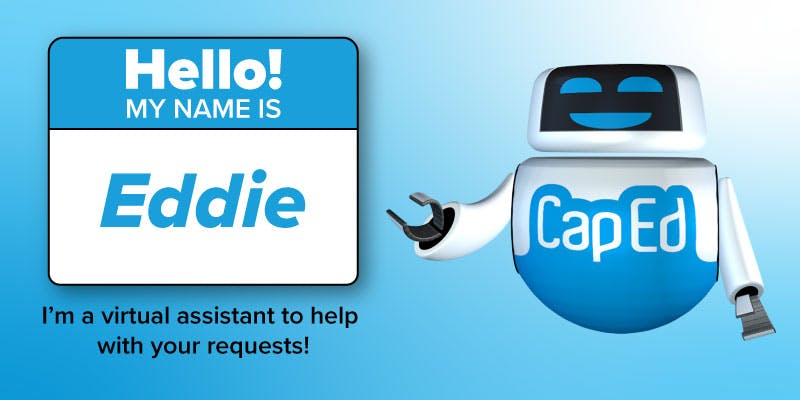 Calling in to get answers or help with your accounts isn't the only way you can contact us.
Since you're already on our website, there's a couple quick and helpful contact methods right on this page!
Online Chat
You can use the "Let's Talk" chat bubble at the bottom right of your screen. This feature allows you to send messages directly to our Member Contact Specialists. You can chat to ask for your account balances, transfer funds and more.
Virtual Assistant
Our website now offers a virtual assistant too. Meet Eddie, our virtual assistant to help with your requests. We are here to help you connect with the information that you need when you need it. To better serve you, our chat bot will help with your initial inquiries. This way you can self-serve 24/7 if you'd like, and we can make sure that you are directed to the right resource, human or bot, at the right time. The best part is if you're interacting with Eddie and need additional assistance, you can be transferred to a representative during our normal business hours. And your information flows seamlessly throughout your interaction, reducing the need for you to repeat yourself. Whether you're interacting with our bot or one of our talented team members, we're making sure that the experience is smooth.
Text Us
If you'd rather not have to call our contact center, you're in luck, you can text us! Using the same phone number, 208-884-0150, you can shoot us a text to get the information you need. You'll be texting one of our specialists just like you would with any of your friends.
We'll verify your information with you before getting started, then we'll be able to take care of whatever you need. You can accomplish just about anything while texting CapEd. We can provide links for applying for a new account or membership, answer balance inquiries, transfer funds or make loan payments as long as the funds are coming from an internal CapEd account. We can answer questions about online banking or the mobile app and we can assist with Debit or Credit Card questions.
Every Member Experience Matters
We want to make sure we can help each and every person who contacts us as quickly and seamlessly as possible. We understand sometimes our phone lines can be busy and that can be frustrating when you also need assistance. That's why we offer so many convenient contact options so we can provide quality service to everyone. You can find more details about the above contact methods and helpful tools on our website here.
Chat with you soon!