Setting Up Direct Deposit
Published on Tuesday, March 10, 2020
Estimated read time: minutes
Content last updated on Wednesday, February 24, 2021
Publicado el 2 10 de 2 de 2020
El tiempo estimado de lectura es de: minutos
Contenido actualizado el 3 24 de 1 de 2021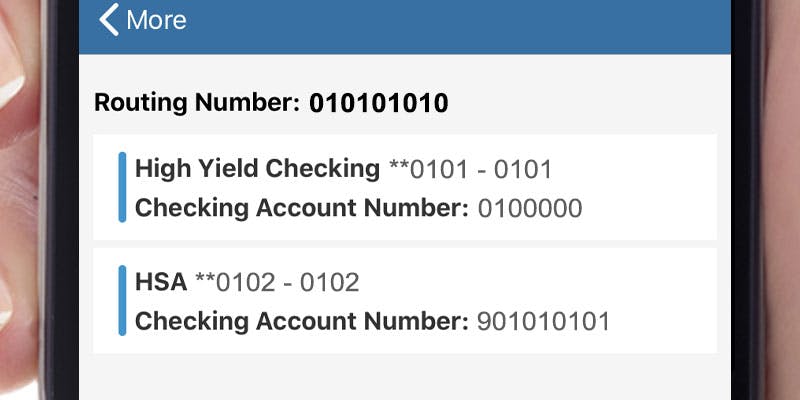 Direct Deposit is another qualification for many of CapEd's rewards accounts. Luckily, setting it up is a cinch!
You'll need two numbers to set up direct deposit:
Your Account Number
CapEd's Routing Number
On Mobile
To find your Account Number and Routing number on your mobile phone, follow the steps below:
Log into the CapEd Mobile App.
Select More from the menu at the bottom of your screen.
Then select the Checking Deposit Information widget from the widget menu.
The Checking Deposit Information widget in CapEd's Mobile App displays the Account Number for each of your CapEd Checking Accounts, as well as CapEd's Routing number.
On Desktop
These numbers are even simpler to find on your Desktop in CapEd's eBanking portal.
Sign into eBanking through the login at the top right hand corner of capedcu.com. This will bring you to your Accounts Dashboard.
Scroll down to the bottom of the page. In the bottom right corner of the Dashboard you'll see a section called Checking Deposit Information. This is where we list your Checking Account number(s) and CapEd's Routing Number, for your convenience.
Now, all you need to do is get together with your HR department, provide them with this information and they'll be able to set up direct deposit to your account. If your employer requires a voided check or a letter with your Account Number and routing number, let us know and we'll be happy to provide one for you.
Questions?
We're here to help you find the information you need to make the most of your CapEd accounts. Contact us to talk with a CapEd representative today.