CapEd's New Youth & Young Adult Account - Rise
Published on Monday, April 04, 2022
Estimated read time: minutes
Content last updated on Thursday, September 08, 2022
Publicado el 1 4 de 3 de 2022
El tiempo estimado de lectura es de: minutos
Contenido actualizado el 4 8 de 8 de 2022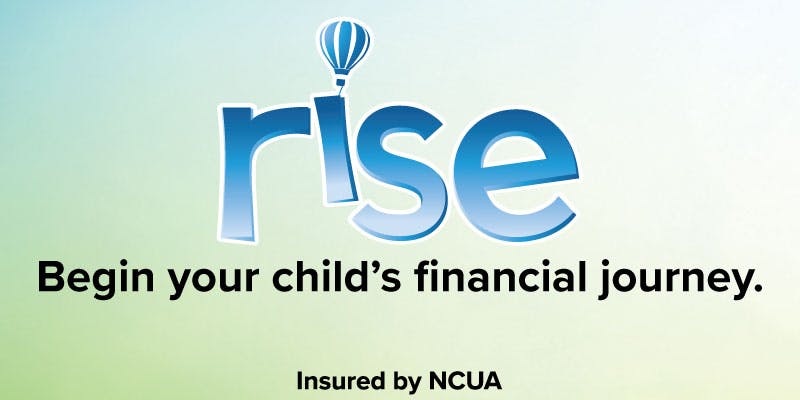 We're excited to introduce our newest addition to the CapEd personal account family: the Rise Youth & Young Adult Savings account! This brand-new account is designed specifically for young savers, age 0-25. The Rise account is here to provide an early understanding of all things banking from saving and loans, to credit and more.
Unlike most youth accounts, the child is the primary owner of their Rise account and the parent or guardian is the joint account owner. This is to help kids understand ownership and responsibility.*
Are You Ready to Rise?
Now, this isn't your average savings account. To encourage youths to build up their savings, this account not only earns a 1% dividend rate but will be rewarded annually if they save a certain amount through the Big Saver Reward feature. Another feature that earns them a little extra is the Opening Deposit Match, a savings match up to $25 on deposits made within the first 30 days of account opening in excess of their initial membership deposit.
There's an App for that!
Not only does this account help parents and guardians empower their children to save and advance their financial knowledge, it also comes with a super cool, interactive app: CapEd's Rise App in eBanking. The Rise app is built into our CapEd Mobile App available on Apple and Android devices already, so there's no need to download a separate application.
Within the Rise app a child will be able to:
Request loans from their parent or guardian for larger purchases and learn the payment process toward their loan
Create budgets for short term or long-term savings, bills and spending
Complete assigned chores and tasks for trophies and extra earnings
Submit their grade cards for review to earn even more
View their allowance created by their parent joint account owner
Watch It's A Money Thing financial education videos to learn money management concepts
Rewards For Saving
The fun and rewards don't stop there! When a child opens their Rise Youth and Young Adult Savings account, they will receive a savings deposit punch card. Like a punch card you'd get from a coffee shop, each new deposit into their savings account will count for one punch on their card. After ten punches, they'll be able to pick out a gift at any CapEd branch.
Worried your child will misplace their punch card and lose their punches? Don't be, the Rise App will also keep track of their punches and will notify account owners when they are eligible for a gift.
CapEd also likes to celebrate member birthdays! CapEd young savers will receive a birthday gift each year during the month of their birthday and can pick up their gift at any CapEd location.

Set Up for Success
At CapEd, our primary focus is member financial well-being, enrichment of community and promotion of quality education. The Rise account is here to help prepare today's youth for the future by educating them about the importance of saving along with the ins and outs of banking. Begin your child's financial journey today with our new Rise Youth and Young Adult Savings account.
*Youth aged 16 and older are not required to have a joint on the account.