RV Renovation
Published on Thursday, March 17, 2022
Estimated read time: minutes
Content last updated on Wednesday, May 04, 2022
Publicado el 4 17 de 2 de 2022
El tiempo estimado de lectura es de: minutos
Contenido actualizado el 3 4 de 4 de 2022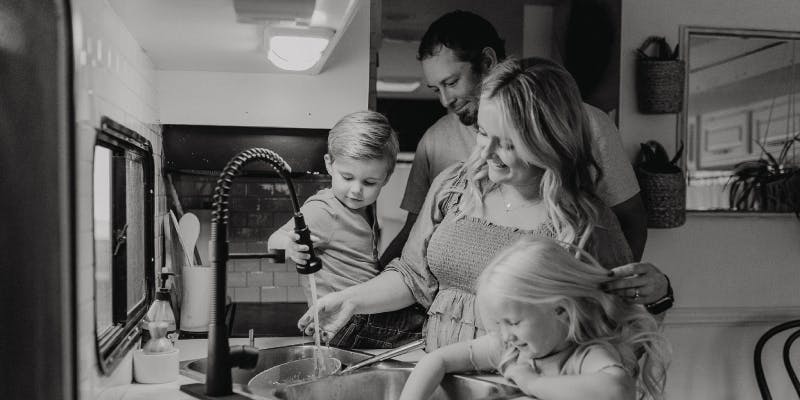 The popularity of owning RVs, motorhomes and travel trailers has been on the rise for the last couple of years. There are many reasons that RV sales and people's motivation to purchase a trailer, motorhome or RV have increased: a simpler lifestyle, the ease of being able to come and go as you please, and more affordability for family vacations.
Flip or Flop
The days of outdated and cookie-cutter trailers, RVs, and motorhomes are long gone. With the rise in popularity of living on the road, people are getting more and more creative with their homes on wheels. With so many lifestyle blogs and social media accounts to follow and reference, flipping your RV is easier than ever.
For example, when local Pacific Northwest residents, Jaimie Appel and her husband decided to sell their home with dreams of building a new house that accommodates their family of four's needs, their search led them to living in their 33' motorhome temporarily. Originally, their RV was primarily for camping and road trips. Now that their RV loan is completely paid off though, the Appel's are able to live in their RV.
Out With The Old
Right from the beginning, they knew they needed to overhaul the interior of their RV to make it a more comfortable fit. With two adults and two little kids coming in and out of the trailer constantly while living on a farm, carpet was no longer an option for the Appels. They ripped up the carpet and found affordable luxury vinyl plank flooring. Thankfully, Jaimie's husband is a handyman and was able to do a lot of the manual labor himself. The kids even got to lend a helping hand before they replaced the flooring as Jaimie and her two young children had fun painting the walls. Why not make special moments and memories along the way too?
In With The New
Once the paint, flooring, light fixtures, and hardware were all updated it was time to add all the cozy touches. New furniture, rugs, bedding, curtains, decorations, and plants added extra value to their motorhome. To keep their renovation budget-friendly, Jaimie also repurposed pieces from their old home into their new temporary one. It's the little things that make everything feel more homey.
Simpler Lifestyle, Simpler Savings
You'd be surprised how much downsizing and simplifying your living can save you. RVs have ample storage throughout, but you are still living in smaller quarters. The Appels adjusted their spending and shopping habits for living in their newly refurbished RV. They no longer buy in bulk like they used to and their grocery trips are a little more strategic. While living the #VanLife, the Appels are continuously saving more money that they'll be able to put toward a new home that is in the works.
There's No Place Like (Motor)Home
If you've been considering whether or not a travel trailer, motorhome, or other recreational vehicle is right for you it all comes down to what is important to you, your family, and your situation. The popularity of living more luxuriously while on the road has certainly become more mainstream which can help your decision making as there are many resources out there to help you weigh the pros and cons. You certainly don't have to live full-time in an RV to appreciate a possible renovation either. Camping and road trips can feel like your home away from home as well.
Meet with your trusted financial advisor, map out a budget, and do some window shopping to see if this dream can become your reality. And if you are looking for a Recreational Vehicle Lender in your area, CapEd has a competitive Boat, RV, and Powersport Loan we hope you consider in your search.
If you want to see a glimpse of Jaimie's RV renovation, head to our Instagram page and keep an eye out for our March CapEd Makes a Podcast episode where you can hear about her experience first-hand. You can also follow Jaimie herself and her blog, Beauty and the Butte.
Check Out Some of the Beautiful Updates Below ⬇