Spirit of Boise Balloon Classic 2021
Published on Wednesday, September 01, 2021
Estimated read time: minutes
Content last updated on Tuesday, November 02, 2021
Publicado el 3 1 de 8 de 2021
El tiempo estimado de lectura es de: minutos
Contenido actualizado el 2 2 de 10 de 2021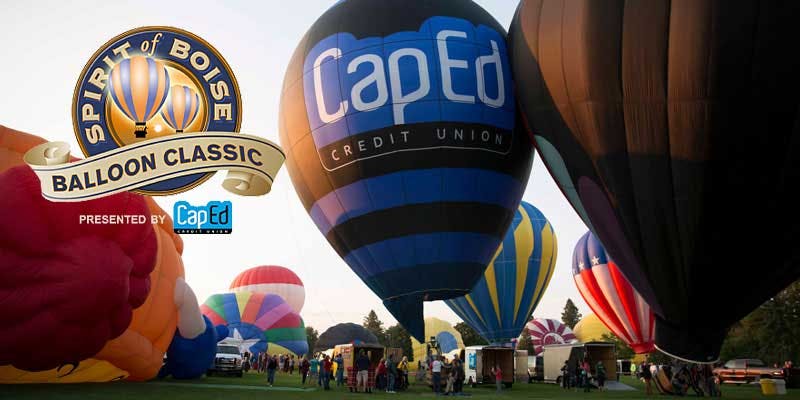 CapEd is elated to be sponsoring the 2021 Spirit of Boise Balloon Classic and helping our community gather safely and responsibly to celebrate the end of summer together.
The fun started this morning with CapEd's Kid's Day, a family-oriented event that introduces kiddos to the science and fun of (tethered) balloon flight and the enchanting display that is the gathering of hot air balloons inflating across the grass at Ann Morrison Park. This included, of course, CapEd's own Read to Rise hot air balloon recognized by our blue and black stripes and CapEd logo. 
Friday Flights and Nite Glow 
There is much fun to be had at the Spirit of Boise in the morning light, but one of our favorite parts of the Classic happens after the sun goes down. This Friday, September 3, is a VIP flight day for anyone who received a flight in a raffle or auction since the last Spirit of Boise, followed in the evening by the Nite Glow celebration.
In memory and honor of the Spirit of Boise Balloon Classic founder, Scott Spencer, there will be a special tribute performed Friday morning before the balloons rise over Boise. Then, the community is invited back to Ann Morrison Park to the annual Nite Glow Spectacular.
Nite Glow festivities start at 5:30PM and include food, vendors, and live music. Then, at 8:05PM, spectators will enjoy a choreographed musical hot air balloon light show. We hope to see some glow-in-the-dark Ed Word the Bookworm™ temporary tattoos from Kid's Day glowing and dancing along in the crowd, too!
Hot Air Balloons in Flight
If you aren't able to make it out to Ann Morrison to check out the balloons for yourself, take a look skyward during your morning commute! September 3-5 the skyline will be peppered with the spectacular sight of fun and funky hot air balloon shapes and colors in the hours just after dawn.*
For more information about the 2021 Spirit of Boise Balloon Classic, visit spiritofboise.com .
*All events are weather permitting.