Spotting Coronavirus Stimulus Scams
Published on Wednesday, April 15, 2020
Estimated read time: minutes
Content last updated on Wednesday, February 24, 2021
Publicado el 3 15 de 3 de 2020
El tiempo estimado de lectura es de: minutos
Contenido actualizado el 3 24 de 1 de 2021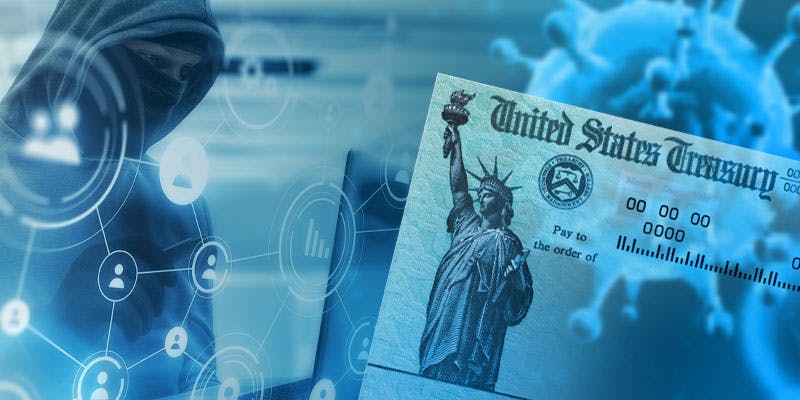 Unfortunately, scammers have come up with ways to swindle people out of their hard-earned money during the Coronavirus pandemic. The Federal government Coronavirus stimulus package, designed to assist millions of American households affected by COVID-19, is now being targeted by fraudsters.
Where Scammers Can Strike
Individuals are being contacted through text messages, social media posts and messages, and phone calls from supposed government agencies for "too good to be true" offers.
One version of the scam targets seniors through a Facebook post informing them they can get a special grant to help pay medical bills. The link within the post takes them to a bogus website claiming to be a government agency where they're asked to provide their Social Security Number to "verify their identity." Another version involves fraudsters that claim to be from the IRS and ask for the person's account information so they can electronically deposit their stimulus check. Still another version involves potential victims who receive phone calls to alert them they qualify for a stimulus payment of up to $15,000, but they must first pay a "processing fee." 
Furthermore, it's always smart to be careful with physical checks when you receive them. Fraudsters know when the stimulus checks will be mailed out, presenting the perfect opportunity to steal checks out of mailboxes and attempt to cash them. Fraudsters may also create counterfeit U.S. Treasury checks to use in their scams.
Coronavirus Scams Aren't Just About Money
Scams don't just stop at your stimulus check. Unfortunately, there are individuals who are now offering fake cures to the virus, masks for sale, and illegitimate Covid-19 fumigation and sterilization. The elderly are especially susceptible to these kinds of scams because of their at-risk status and isolation. Learn more about how to protect yourself from scams like these on AARP's website .
How Do You Know If It's A Scam?
When it comes down to it, informing yourself will put you in a good position to avoid a scam and benefit from this relief effort. Government agencies, including the IRS will not:
Contact you through social media outlets, such as Facebook
Contact you via text or phone
Ask for personal information like your Social Security Number or bank account information
Require a processing fee in advance to you receiving money
Keep Yourself and Your Money Safe
Stimulus checks will likely be in the form of direct deposits or through U.S. Treasury checks mailed directly to you so don't be fooled by these scams. If you have any questions about stimulus check disribution, or about a suspicious U.S. Treasury check, phone call, text, or social media communication, please contact us for assistance.