CapEd Visa® Credit Card Upgrades
Published on Tuesday, September 14, 2021
Estimated read time: minutes
Content last updated on Wednesday, September 15, 2021
Publicado el 2 14 de 8 de 2021
El tiempo estimado de lectura es de: minutos
Contenido actualizado el 3 15 de 8 de 2021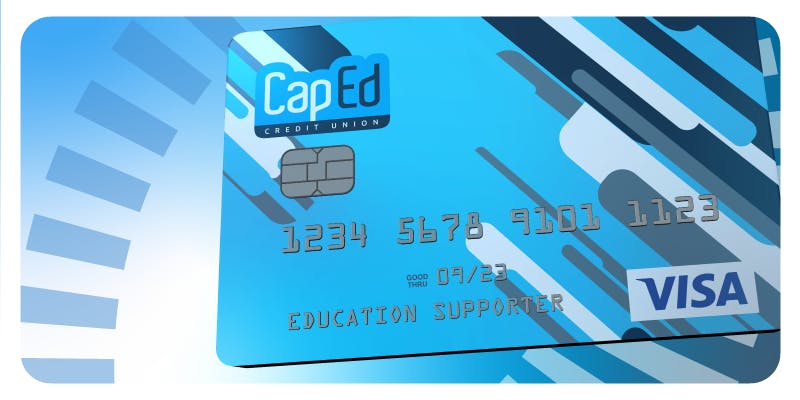 CapEd is excited to announce upgrades to our VISA® Credit Card program! Read on for important information about enhancements to our VISA® credit cards starting on September 17, 2021.
Enhancements to CapEd Personal and Business Credit Cards
New online banking look and feel to facilitate easier management of your CapEd Credit Card within eBanking for desktop and mobile.
A robust updated Reward Points Program for travel, merchandise, charitable giving, and cash back or statement credits.
Important Dates
September 16, 2021: Current reward points will temporarily be unavailable for redemption for products or services after 3 pm MT until points are transferred to our new reward program, between September 20 and October 20, 2021. The last payments that will be received prior to the transition will be on September 16, 2021 at 3 pm MT.
September 17-19, 2021: Access to your CapEd Visa® Credit Card(s) balance and transactions will be temporarily unavailable to view online at capedcu.com or at the Credit Union after 3 pm MT.
September 20, 2021: Your CapEd Visa® Credit Card(s) will be available to view and make payments. Log into Online Banking at capedcu.com, click on your credit card loan and you will be linked to our new site, eZCardInfo.
October 20, 2021: By this date, reward points will be transferred to the new Scorecard program and available to redeem.
Required Member Action
Future-dated Payments: Future dated payments will not transfer to eZCardInfo. If you set up a payment for a future date after September 16, 2021, please log in on or after September 20, 2021 and re-enter your payment request.
Multiple Payment Accounts: If you have multiple accounts set up for payments, you will need to re-enter this account information in the Credit Card widget in eBanking.
AutoPay: AutoPay set up currently will not be visible when you log in to edit your credit card settings in eBanking. You will need to contact CapEd to edit or delete your current auto pay account(s). Once deleted, you can then enter any new payment information.
eStatement Enrollment: All cardholders will need to re-enroll for electronic statements and accept disclosures for this service after the transition. You may receive one last paper statement before eStatements go into effect depending on the time of your request within the statement cycle.
eAlerts: All cardholders currently enrolled in eAlerts will need to re-enroll for electronic notifications and re-accept disclosures to add them to your account. SMS short codes will no longer be available.
What's staying the same?
Recurring Payments and Other Payment Methods: Recurring payments set up currently will continue to process. Pay by Phone, Auto Pay and Agent Assisted Payments will continue to be available using the same customer service number now listed on our website. Payments can also continue to be mailed to the address listed on member statements.
Credit Card Numbers: Your CapEd Credit Card number(s) will remain the same and your card(s) will continue to work for purchases throughout this transition.
Digital Wallet: If you have your credit card currently enrolled in your Apple, Google or Samsung digital wallet, your card will continue to be available for transactions throughout the transition.
Additional Information:
Statement History: An 18-month statement history will be made available after the transition in your Credit Card widget.
Travel Notifications: For travel notifications, please continue to contact us at 800-223-7283 or chat with us with the Let's talk! chat feature on our website.
Lost or Stolen Card Contact: The Lost and Stolen Card contact numbers will remain the same and can be found on our Contact Us page.
Questions?
Hop on a chat or audio call with a CapEd representative via the Let's talk! chat icon on the left side of your screen or contact us via your preferred method on our Contact Us page.